Submitted by admin on Sun, 11/09/2011 - 8:22am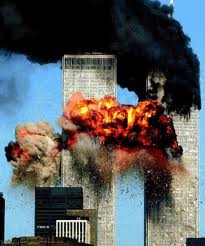 11-09-2011
Dalam dekad lalu, kita telah melihat bagaimana kemusnahan dan keputus-asaan akibat daripada serangan 11 September telah bertukar menjadi perang sejagat.
Sekurang-kurangnya, ia telah meninggalkan kesan bagi penganut Islam dan bukan Islam dengan sikap saling menaruh kebencian dan syak wasangka, paling tidak pun rasa sinis terhadap harapan untuk memulihkan keamanan. Permasalahan ini menjadi lebih genting kerana kita tidak melihat kemungkinan untuk mengharapkan perubahan atau kemajuan terhadap pertikaian ini dalam waktu terdekat.

Sebagai umat Islam, kita melihat diri kita kini berhadapan dengan suatu cabaran yang cukup besar dan sukar. Kita terperangkap antara realiti dan ketidakadilan imperialisme di satu pihak, dan kemunduran budaya dan tamadun yang serius di kalangan masyarakat Muslim.
Oleh itu, adalah penting sekarang ini untuk kita meninjau ke dalam diri dengan pertanyaan dan kesedaran yang benar untuk lebih memahami kedudukan perkara ini.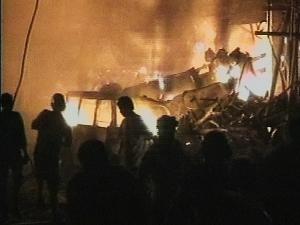 Terorisme adalah ancaman kepada kelompok Islam dan bukan Islam yang tidak bersalah
Masyarakat Muslim secara umumnya telah lali dengan kritikan terhadap imperialisme, dan layaklah begitu. Tetapi dalam merenungkan pengertian dan makna yang signifikan daripada peristiwa 11 September, kita harus sematkan dalam ingatan jumlah keseluruhan akan jiwa manusia yang terkorban dalam Perang terhadap Keganasan. Hal ini adalah kerana apa yang benar juga adalah amarah yang diperlihatkan golongan fundamentalis, jikapun tidak diihamkan secara langsung daripada al-Qaeda, telah memberi kesan kepada orang Islam dan bukan Islam yang tidak bersalah.
Serangan teroris di Madrid (Mar 11, 2004), Jakarta (Julai 17, 2009 dan Aug 5, 2003), Bali (Okt 12, 2002 and Okt 1, 2005), Istanbul (Nov 20, 2003) Jeddah (Nov 6, 2004) Riyadh (Dis 29, 2004), Mumbai (Nov 26, 2008), sebagai misalan, wajar mengingatkan kita tentang watak keganasan yang universal dan tanpa prejudis. Betapa banyak nyawa yang tidak bersalah yang harus menanggung beban kebencian yang dipamerkan oleh sekelompok pengganas.
Perang terhadap Keganasan tidak harus menjadi fokus kita seluruhnya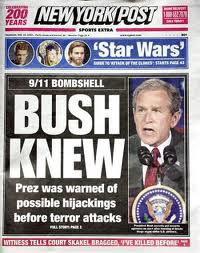 Debat sebenar tentang kondisi umat Islam selepas 11 September tidak harus tertumpu pada persoalan siapa yang telah membunuh paling ramai mangsa, atau siapa yang mampu mencetuskan kemusnahan yang paling teruk. Tidak juga hanya berlegar seputar siapa yang memulakannya dahulu. Hal ini adalah pertimbangan yang sah untuk difikirkan tentang kenyataan hidup kita kini tetapi ia tidak harus menjadi petunjuk kepada dhamir kita sebagai Muslim.
Kerana sekiranya pertanyaan kita hanya terarah sekitar kuasa, pembalasan dan jumlah penderitaan, kita tidak dapat melangkaui batas logik dari reaksi spontan yang telah mengheret pada peperangan yang kita cuba elakkan dari awalnya.
Respon yang jernih terhadap krisis yang bergolak dalam era ini harus terpisah sejauh mungkin daripada denyut kemarahan dan tuntutan dendam. Sebaliknya, umat Islam harus melihat ke dalam untuk menekur bagaimana kita dapat menemu semula kekuatan dan potensi kita dengan sepenuhnya sebagai satu peradaban, walau digugat dengan cabaran yang getir.
Sebagai Muslim kita harus melihat keadaan ruang lingkup umat yang menyeluruh dan tidak membiarkan permasalahan kita dikaburi dengan sekadar mengkritik polisi. Kita harus bertanya: Bagaimana umat Islam dapat merencanakan penentangan yang progresif terhadap penaklukan empayar, disebalik faham konservatif dan tindakan represif yang dominan dalam politik umat Islam di seluruh dunia? Mengapakah kita begitu prihatin tentang percubaan penganut agama lain mencabar akidah kita sedangkan kita hanya menikus daripada bersuara terhadap pemerintah yang korup dan zalim sehingga kita menyalahtafsir tradisi umat yang terdahulu (as-salaf as-salih) bagi menjustifikasi pendirian kita mempertahankan pemerintah tirani di tanah air? Dalam zaman penindasan dan fundamentalisme ini, bagaimanakah umat Islam dapat mengharapkan kebebasan dan liberalisasi? Dan bagaimana pula kita dapat membina kesatuan dengan kalangan bukan Islam bagi mencapai hasrat memperbaiki tamadun dunia.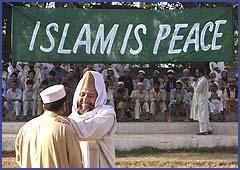 Islam adalah agama perdamaian tetapi keamanan bukan hanya bermakna bebas daripada perang
Secara lebih spesifik, keamanan terletak pada sikap yang benar terhadap kebebasan, kesamaan dan kepelbagaian. Tetapi kita tidak perlu melihat jauh tentang budaya umat Islam seluruhnya untuk menyaksikan kenyataan yang serius dimana kita semuanya masih bergelut untuk mempraktikkan cara hidup yang mampu menzahirkan idealisme tersebut. Tidak hanya di sana tiadanya konsensus yang jitu di kalangan umat Islam dalam menjawab isu yang sukar berkait dengan kebebasan individu, keadilan ekonomi dan pluralisme, malah yang lebih sering dilihat, adalah ketidaksediaan untuk mewacanakannya secara terbuka dan demokratik.
Masalah ini tentunya berlanjut dengan lebih panjang dan mendalam daripada sekadar keperluan untuk membincangkan isu yang berbangkit ini. Cabaran yang sebenar adalah dalam membangunkan masyarakat dengan kekuatan institusi dan pandangan budaya yang benar bagi memastikan keadilan, persamaan, kebebasan dan kepelbagaian kekal diraikan sebagai suatu realiti.
Menjelang 11 September ini, seperti pada setiap tanggal yang sama yang disaksikan dalam dekad yang lampau, tanpa ragu akan melahirkan rangkuman propaganda dan perasaan amarah daripada semua kalangan. Adalah penting bagaimanapun untuk diamati bahawa sebagai Muslim masalah yang kita depani dalam peradaban ini telah terzahir lama sebelum 11 September muncul. Pada akhirnya, kita sebagai Muslim yang sebenarnya memikul peranan untuk merobah keadaan kita sendiri, pertamanya dan lebih dahulu, sebelum menunding jari menyalahkan pihak lain.
"Sesungguhnya, Tuhan tidak merubah keadaan manusia sehingga mereka merobah kondisi dalaman mereka sendiri…" [13:11]
Dr Ahmad Farouk Musa
Mohd Radziq Jalaluddin
Ahmad Fuad Rahmat
Edry Faizal Eddy Yusof
Islamic Renaissance Front [IRF]
---
Versi B. Inggeris

IRF Press Statement: Ten Years After September 11: A Time to Reflect
11-09-2011
In the past decade, we have seen how the destruction and desperation in the attacks of September 11th mutate into a state of global war.
At the very least, it has left Muslims and non-Muslims in common grudge and distrust, if not at least cynicism towards any hope for genuine peace. It is all the more troubling that we have no reason to expect any change or improvement in this state of affairs soon.
As Muslims, we find ourselves confronting a grave and difficult challenge. We are caught in between the realities and injustices of imperialism on one hand, and the serious decline in Muslim culture and civilization on the other.
Therefore, it is all the more important now that we turn inwards with the right questions and realizations for ourselves towards a better understanding of the reality at hand.
Terrorism is as much a threat to Muslims and innocent non-Muslims
Muslims by and large are all too familiar with critiques against imperialism, and rightly so. But in reflecting upon the significance and meaning of September 11, we must keep in mind the total human cost that the War on Terror has taken: For what is also true is that the fundamentalist rage exemplified, if not inspired directly by al-Qaeda has also affected Muslims as well as innocent non-Muslims.
The terror attacks in Madrid (Mar 11, 2004), Jakarta (July 17, 2009 and Aug 5, 2003), Bali (Oct 12, 2002 and Oct 1, 2005), Istanbul (Nov 20, 2003) Jeddah (Nov 6, 2004) Riyadh (Dec 29, 2004), Mumbai (Nov 26, 2008), to name only a few, should remind us of the universal and indiscriminate nature of terrorist rage. How many innocent lives had to suffer the brunt of hatred emanating from a few zealots.
The War on Terror should not be guiding all our concerns
The real debate about the Muslim condition after September 11 should not centre on questions about who has killed more, or who has the power to inflict the most damage. Nor should it be primarily be about who started it first. These are legitimate considerations to keep in mind for facts about the reality we live in but they should not be guiding our conscience as Muslims.
For if our inquiries are anchored primarily to concerns about power, retribution and the quantification of suffering, we would not be going beyond the logic in the knee jerk reactions that led to the wars we are trying to survive in the first place.
An enlightened response to this era of crisis must divorce itself as much as possible from the impulse of rage and revenge. Instead, Muslims must turn inwards to reflect on how we can rediscover our full capacity and potential as a civilization, despite the challenges we face.
As Muslims we must look into the totality of our condition and not let our problems be obscured by mere critiques of policy. We must ask: How are Muslims to envision a progressive resistance to empire, in light of the predominantly conservative and repressive trend of Muslim politics across the globe? Why are we so concerned about others threatening our faith when we're so scared to voice out against the corrupt and despotic rulers up to the extent that we misconstrued tradition of the pious predecessors (as-salaf as-salih) to justify defending tyrant rulers of our land? In an age of oppression and fundamentalism how should Muslims envision freedom and liberation? And how do we build solidarity with non-Muslims towards achieving that end of ameliorating world civilization?
Islam is a religion of peace but peace is not just the absence of war.
More specifically, peace lies in having the right attitude to freedom, justice, equality and diversity. But we need not look far at the cultures of Muslims as a whole to see the serious extent to which we by and large are still struggling to practice a way of life that truly embodies those ideals. Not only is there a lack of Muslim consensus on the difficult issues of personal freedom, economic justice and pluralism, there is more often than not, a reluctance to discuss them openly and democratically.
The problem of course extends further and deeper than just the need to simply discuss those issues. The real challenge is in constructing a society with the right cultural attitudes and institutions to ensure that justice, equality, freedom and diversity remain lived realities.
This September 11, like every other one we have seen in the past decade, will no doubt consist of the usual mix of propaganda and righteous indignation from all sides. It is important however to keep in mind that as Muslims the problems we face as a civilization were there long before September 11 and that at the end of the day we as Muslims have the responsibility to change our own condition, first and foremost, before putting the blame on others.
"Verily, God does not change men's condition unless they change their inner selves…" [13:11]
Dr Ahmad Farouk Musa
Mohd Radziq Jalaluddin
Ahmad Fuad Rahmat
Edry Faizal Eddy Yusof
Islamic Renaissance Front [IRF]