Submitted by zain-ys2 on Sat, 16/06/2012 - 8:19pm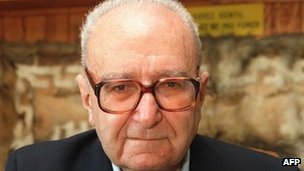 French philosopher Roger Garaudy dies
Controversial French philosopher Roger Garaudy has died at the age of 98.
An ex-member of the communist party, he converted to Islam in the 1980s. His 1996 book The Founding Myths of Israeli Politics denied that the killing of Jews by the Nazis constituted genocide.
He was given a suspended jail sentence for Holocaust denial in 1998.
During the war Garaudy joined the French Resistance and later wrote more than 50 books - mainly on political philosophy and Marxism.
He was expelled from the French Communist Party in 1970 after criticising the Soviet invasion of Czechoslovakia.
Born into a Catholic family, he initially converted to Protestantism before rejoining the Catholic Church and eventually embracing Islam. [BBC]
---
Kenali Siapa Roger Garaudy
Roger Garaudy [Petikan: wiki]
Roger Garaudy (lahir di Marseille, 17 Julai 1913; umur 98 tahun) ialah pengarang yang berasal dari Perancis dan merupakan seorang Penyangkal Holocaust. Selama PD II, Garaudy ditawan sebagai seorang tahanan/tawanan perang di Aljazair. Garaudy ialah seorang ahli komunis yang cuba mendamaikan Marxisme dengan agama Kristian Katolik pada era 1970-an dan kemudian meninggalkan kedua doktrin itu dan memeluk agama Islam pada tahun 1982, dengan nama Ragaa.
Revisionisme
Pada 1998, Mahkamah Pengadilan Perancis mendakwanya kerana bersalah diatas pertuduhan menyangkal Holocaust dan penistaan terhadap sesuatu kaum ataupun rasial seperti yang didakwa oleh bangsa Yahudi, mahkamah menyuruhnya membayar denda sebesar FF 120,000 ($40,000) untuk buku tahun 1995-nya, "Mitos dan Politik Israel". Menyokong pandangan sejarawan revisionis Perancis Robert Faurisson, buku itu menyatakan bahawa selama Holocaust, orang-orang Yahudi tidak pernah dibunuh beramai-ramai dalam kamar gas oleh orang Nazi Jerman sepertimana yang didakwa oleh Yahudi.[1] Dengan segera, buku itu diterjemahkan ke dalam bahasa Arab dan bahasa Parsi dan pengacara Sudan, Faruk M. Abu Eissa, mengumpulkan kumpulan rasmi berjumlah lima orang untuk mendukung kebenaran Garaudy atas kisah penahanannya di Paris. Pemerintah Iran telah membayar beberapa denda yang sebelum ini perlu ditanggung oleh Garaudy.
Garaudy juga dikenali sebagai kawan kepada Abbé Pierre. Pada tahun-tahun penghukuman kawannya, Abbé Pierre sangat menyokong buku nukilan Garaudy dan juga membandingkan Holocaust terhadap "kejahatan perang" Bani Israel kuno.
Karya
Garaudy telah menulis lebih dari 20 buku, termasuk:

Apakah Kita Memerlukan Tuhan? (Avons-nous besoin de Dieu?)

Dieu est mort

The grandeur and decadences of Islam

Islam and integrism

Call to the living

Who do you say that I am?

Towards a war of religion

Mitos dan Politik Israel

Zionis, Sebuah gerakan keagamaan dan politik